Supporting adaptive leadership & resilience
In various conversations that we have had with various Boards and business leaders following the publication of our report Agile, we have come to realise that the adaptive challenge that COVID-19 posed to businesses have caught many business leaders unprepared for the strategic conversations that had to happen. As discussed in an earlier article, businesses today operate in a VUCA (Volatile, Uncertain, Complex and Ambiguous) environment whereby such adaptive challenges are going to be more and more frequent.
At Seed, we believe that more companies and Boards need to build organisational resilience together with adaptive leadership. Organisational resilience is defined by the British Standards Institute as the ability of an organization to anticipate, prepare for, respond and adapt to incremental change and sudden disruptions in order to survive and prosper. It involves changing before the cost of not changing becomes too great. This requires learning to do new things by changing underlying values and assumptions, creative problem solving, innovation and learning.
The act of building resilience requires mastering various tensions within the organisation especially between flexibility and consistency and between progressive and defensive styles of management. In the former set of tensions, there has been traditionally a move towards have consistency as the main barometer with a focus on processes and routines however in today's world flexibility is key to an organisation's long-term success. On the other hand; the other opposing extremes are between defending the present results as opposed to a more aggressive stance with a focus on achieving more results. Organisational Resilience requires senior leaders to strike an appropriate balance between the sometimes-conflicting objectives and be both defensive and progressive and both consistent and flexible.
In our work and conversations, we realise that Boards and business leaders require an adaptive leadership toolkit which will strengthen their approach in dealing with adaptive challenges and build organisational resilience. This toolkit is best adopted by either the Board or the Executive Management Team in order to review the business in a holistic manner.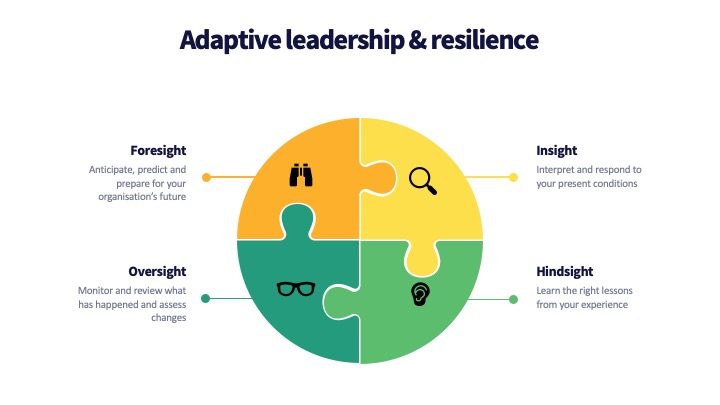 Foresight – Anticipate, predict and prepare for your organisation's future. It is important that business leaders have access to market intelligence on their sector, consumers and broader operating environment.
Insight – Interpret and respond to your present conditions. This involves having a data strategy in place which not only collects various data sets from difference sources but more importantly analysing the data and deriving key insights.
Oversight – Monitor and review what has happened and assess changes. Here firms need to have a robust system of enterprise risk management practices which supports them in identifying, managing and monitoring risks to the business and operating environment.
Hindsight – Learn the right lessons from your experience. This requires a 'no blame' culture and a willingness to learn from both successes as well as failures. A culture of feedback needs to be instilled in order to grow from past experiences and focus on future opportunities.
Seed's multi-disciplinary team supports companies on their path to build their organisational resilience. Our toolkit is deployed in a number of board rooms and executive management teams whereby our team contributes to shoring up resilience and to facilitate strategic conversations around the adaptive challenges each and every business face.
For more information on our toolkit, please contact JP Fabri or Sarah Martin.